Branding
Promotion
SEO
Flow
Social Media
Email marketing is not a goal per se. It is a tool we can use to reach our goals. Email marketing comes into play in promoting your branding. Indirectly, it can also be used to enhance your search engine presence. Email marketing also assists you with your social media presence. It can be used to extend the flow of your content, allowing content to continue after the site visit is over–containing content that flows from the visit and that will bring your visitors back to the site.
The emphasis you place on Email marketing will determine your style of Internet marketing. Some see email as the most crucial step in the marketing process. Others, recognizing the lack of dependability of email being viewed, put less emphasis on it, while still recognizing its importance. In any event, email marketing is a necessity to any good Internet marketing campaign.
Don't Spam!
The Marketing Funnel
Although I don't believe we've used the "marketing funnel" terminology, we have discussed the processes involved in it throughout this course. The popular analogy is that the process of promoting your marketing campaign through the life cycle of a customer is like a funnel. Your target market is poured in at the top and must work its way through various sieves before purchasing your product or service. While there are several versions of the steps involved, a good comprehensive example goes like this:
Awareness
This is what occurs when someone enters the funnel.
Interest
Those who, after becoming aware, want to know more.
Engagement
Taking active steps to become more familiar with your product or service.
Consideration
Those who, after learning more, think there might be something for them here.
Evaluation
Weighing the pros and cons of committing to your product or service.
Commitment
Accepting a free trial, joining your newsletter or following your social media.
Conversion
Becoming a customer of your product or service.
Loyalty
Buying more of your products or retaining your service.
Advocacy
Enjoying your product or service so much they enthusiastically promote it to others.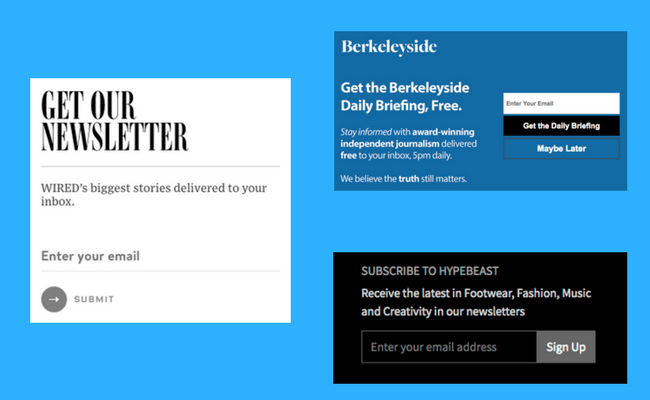 Types Of Email Communication
As I've said numerous times in this course and the previous course, the days of buying an email list and blasting out cold emails to thousands of people at once are long gone. That technique is now relegated only to the worst of the spammers and scammers. We use email differently in our marketing today.
There are three main types of email communications. One, we should respond by email when someone contacts us by email or takes action on our website. We should welcome them and thank them for joining our newsletter, purchasing a product, or signing up for a service. We should promptly reply when they send us a contact form message from our website. Two, those who have signed up for our newsletter should receive periodic content of interest to them. Three, there are times we need to send reminders to particular people.
When someone who has been actively involved in commenting on our website disappears, it is appropriate to email them that their input is missed and inquiring if all is well. If someone leaves something in their shopping cart without completing the transaction, an email reminder to complete the transaction is appropriate.
As for the periodic content of newsletters, that should ideally be tailored to the type of customer and their stage in the customer life cycle. We can use the information we collect about customers and potential customers to know what stage they are in.
Conclusion
Email marketing should be integrated into your overall Internet Marketing approach and used as a valuable tool to help you obtain your goals. The first and most important rule for email is to avoid spamming. Learn the spam rules and principles and follow them. Rather than the traditionally popular "Marketing Funnel" strategy, design a strategy that is customer-centric and allows for more flexible response to your customers' needs.
The easiest and most practical way to create a newsletter is to join a newsletter service such as Mailchimp. If you use WordPress, integrate your newsletter service with your Contact Form 7 and Flamingo plugins. Set up a sign up form. If you sell products or services directly from your site, consider integrating your newsletter with your shopping cart or payment service. Next, you need to create your list, preferably using a master list and a number of organized sublists based on the information you have decided is important to your campaign.
Make sure you have everything carefully configured and ensure that you are responding timely when someone sends you an email or interacts with your site. Design newsletter content to appeal to potential customers at different stages of the customer life cycle and send the right messages to the right potential customers at the right time. Remember to also send reminders when appropriate.